Radiology Select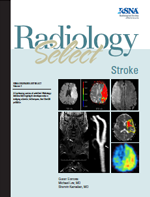 This volume features 30 articles that cover:
CT applications including dual-energy imaging, perfusion imaging, and thrombus detection
Techniques for risk stratification, diagnosis, and therapeutic monitoring in the internal carotid artery
"Mismatch" MR imaging techniques
Observations on neonatal intracranial hemorrhage and cerebral artery flow in pediatric sickle cell disease
Stroke – Volume 2 Online edition is now available for free. Please note there are no opportunities to earn SAMs credits in this volume.
Access Volume 2 Online
Podcast
Listen to a conversation between Michael H. Lev, MD, and Deborah Levine, MD discussing the importance of Radiology Select Volume 2 and its topic - Stroke (mp3 format; Duration: 9:36).
Biographies

Michael H. Lev, MD, has been an attending neuroradiologist at Massachusetts General Hospital in Boston, Mass, since 1995. He is currently Director of Emergency Neuroradiology and the Radiology Neurovascular Laboratory and associate professor of radiology at Harvard Medical School in Boston. He is board certified in both internal medicine and radiology, with a certificate of added qualification in neuroradiology. He served as deputy editor for neuroimaging of Radiology from August 2007 through March 2009 and continues his service on the Radiology editorial board as consultant to the editor. He has been on the editorial board of the American Journal of Neuroradiology since 2000 and is a principal investigator for both the CT perfusion stroke imaging project of Partners Healthcare's National Institutes of Health–funded Specialized Program of Translation Research in Acute Stroke (SPOTRIAS) program project grant and for the Department of Defense/National Institute of Biomedical Imaging and Bioengineering–funded point-of-care center study of the clinical feasibility of electrical impedance spectroscopy.

Shervin Kamalian, MD, is a research fellow and neuroimaging research laboratory director for CT dose reduction. He receives support in the form of two federally funded grants to study the feasibility of electrical impedance spectroscopy at the Neuroradiology Section of the Massachusetts General Hospital (Boston, Mass). He was selected to participate in the Scholars in Clinical Science Program at Harvard Medical School in Boston, where he is scheduled to receive an MSc degree in clinical investigation in 2013. He received his MD degree from Tehran Azad University of Medical Sciences (Tehran, Iran), where he completed a clinical internship. His current research interests also include advanced ischemic and hemorrhagic stroke imaging, and his efforts to date have been published (or are pending publication) in journals such as Stroke, the American Journal of Neuroradiology, Cerebrovascular Disorders, Neurology, and Radiology. Dr Kamalian is a member of the Radiological Society of North America, the American Roentgen Ray Society, and the American Heart Association/American Stroke Association.