Radiology Select
Volume 7: Imaging the Liver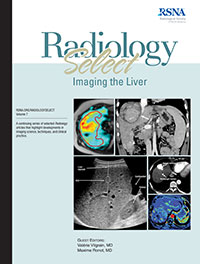 This volume features 31 articles that cover the most important advances in liver imaging, including concepts that were developed in earlier studies and have recently been confirmed, with an emphasis on the role of preliminary or experimental studies. Subject areas include:
Diagnostic imaging with US, CT, and MRI
Disease detection and characterization with diffusion MRI
Quantitative imaging techniques
Liver-specific contrast agents
Advances in treatment of liver diseases
Radiology Select, Volume 7: Imaging the Liver is now available for free. Please note there are no opportunities to earn SA-CME credits in this volume.
Access Volume 7 Online
Video
Series Editor Deborah Levine, MD and Guest Editor Val�rie Vilgrain, MD, PhD discuss the importance of Radiology Select Volume 7 and its topic, Imaging the Liver.
Biographies
Radiology Select Volume 7: Imaging the Liver Guest Editors

Val�rie Vilgrain, MD, PhD, is chair of the Department of Radiology at Beaujon University Hospital (Clichy, France) and full professor of radiology at the Paris Diderot University, Sorbonne Paris Cit�, France. She received her MD degree from Rene Descartes University of Paris Medical School in 1985. She was resident in radiology at University of Paris and she completed a fellowship in radiology at Beaujon University Hospital. Her major research interests are diagnostic and interventional imaging of the liver, pancreas, and bile ducts, with a special interest in multidetector CT and MR imaging and contrast-enhanced US, functional imaging (CT perfusion, dynamic contrast-enhanced MR imaging, DWI, and MR elastography).

Maxime Ronot, MD, PhD,, graduated from Paris Diderot University (France), where he received his MD and PhD degrees. He completed his residency and fellowship training in diagnostic and interventional imaging at the University Hospitals of Paris and Geneva. He now serves as associate professor in the Department of Medical Imaging at the Beaujon University Hospital (Clichy, France). His main foci of research have been liver diseases and tumors, interventional abdominal oncology, functional imaging of the liver, and elastography.
To view the Radiology Select Volume 7: Imaging the Liver editorial as it appears in the print edition, please click here.