Radiology Select
Volume 3: Coronary Artery Disease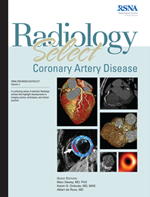 This volume features 29 articles that cover:
Basic image information and artifacts on cardiac MR
Radiation reduction methods
Advanced cardiac CT and MR techniques
Cardiac viability imaging
Multimodality imaging
Evidence-based clinical applications of diagnostic and prognostic
techniques
Coronary Artery Disease – Volume 3 Online edition is now available for free. Please note there are no opportunities to earn SAMs credits in this volume.
Access Volume 3 Online
Video
Guest editors discuss the importance of Radiology Select and its topic - Coronary Artery Disease

Biographies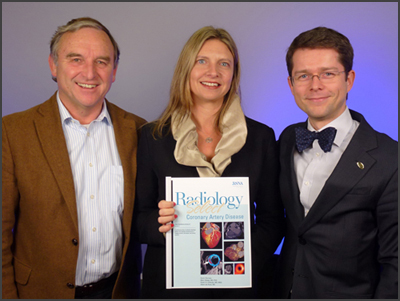 Radiology Select Volume 3: Coronary Artery Disease Guest Editors
Marc Dewey, MD, PhD, joined the Department of Radiology at Charité–Universitätsmedizin Berlin in 2002. He has been an Associate Editor of Radiology since 2011 and was the editor of Cardiac CT (Heidelberg, Germany: Springer, 2011). For his work on cardiovascular imaging he received the Wilhelm-Conrad-Röntgen Prize in 2009 and the Röntgenring in 2012. He is the current president of the Röntgen Society of Berlin and Brandenburg (founded, 1898).
Karen G. Ordovás, MD, MAS, is an assistant professor in the department of Radiology and Biomedical Imaging at the University of California–San Francisco (UCSF) and codirector of the UCSF Cardiovascular Imaging Research Interest group. She completed her residency in 2001 at the Cardiology University Foundation/Heart Institute of Porto Alegre, Brazil. She has been dedicated to cardiac imaging research at UCSF since 2003. She completed her clinical fellowship in cardiothoracic radiology at UCSF in 2007. She was an RSNA Research Fellow and an ARRS Research Scholar awardee. She also completed an MAS program in Advanced Clinical Research at the UCSF Department of Epidemiology and Biostatistics and is currently actively engaged in the scientific program committees of the Society for Cardiovascular Magnetic Resonance and the North American Society for Cardiovascular Imaging.
Albert de Roos, MD, received his MD degree from the University of Amsterdam (the Netherlands) in 1980. After an internship in internal medicine, he completed his residency in radiology at Leiden University in Leiden, the Netherlands in 1985. Currently, he is professor of radiology at Leiden University Medical Center in Leiden, the Netherlands. His main scientific interest is the clinical evaluation of cardiovascular CT and MR imaging applications in congenital and acquired heart disease. He has coauthored many publications and books on these topics, including MRI and CT of the Cardiovascular System, coedited with Charles B. Higgins, MD. His service to professional societies and journals includes the vice-presidency of the Society for Cardiovascular Magnetic Resonance and serving as deputy editor for Radiology.
To view the Radiology Select Volume 3: Coronary Artery Disease editorial as it appears in the print edition, please click here.